What is the Bathmate Hydromax?
The Bathmate Hydromax is a penis pump with a difference. This new pump is a follow up to the massively poplar Bathmate Hercules. That model boasted a 95% success rate and no doubt this new model that has 35% more power will achieve a higher success rate.
What's new in this device?
This new model takes off where the Bathmate Hercules so fabulously left things. This new model has an easy to use latch that can be operate with one hand. This allows pumping to happen easier. This new device also has 35% more power thanks to a new bellow pump design. It also has a new comfort patch allowing you to use the device in even more comfort. The cylinder head also rotates 180 degrees allowing you to see the measuring gauge. This helps you to measure your progress.
How do I use it?
One of the best features about the Bathmate Hydromax is that is it so simple to use. Simply fill the cylinder with water and insert your penis. Pump out the water whilst clicking the latch. Keep on for 15 minutes. For more information, simply watch the video to the right.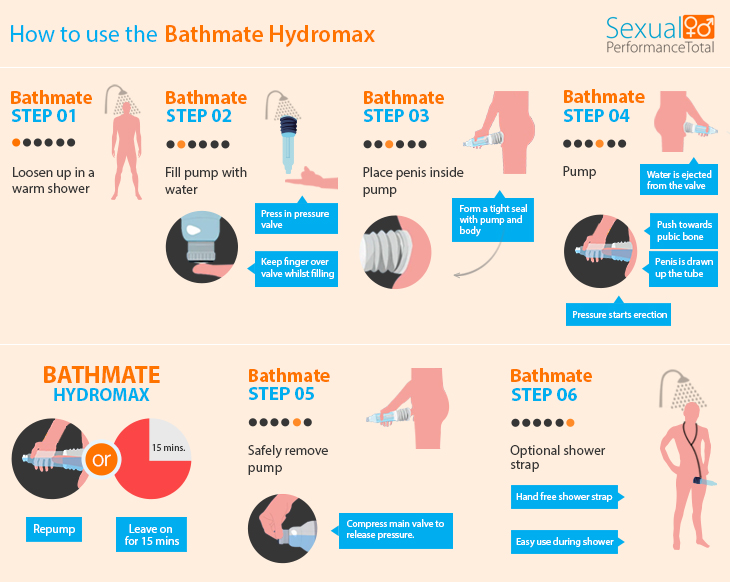 Are there any side effects?
Bathmate Hydromax is made from high quality materials and constructed in the United Kingdom. Safety is of highest concern and this device has been made following strict guidelines. You should not experience any abnormal or unwanted side effects if you use the device properly. If you do experience pain, then stop using the device as you may be using it wrong.
How do I order my Bathmate Hydromax in UK?
Ordering your device from Sexualperformancetotal.com is easy, discreet and only takes a few moments to begin. Start your journey to a bigger penis today with the innovative and new Bathmate Hydromax by simply choosing the 'Add to Basket' option now.
Reviews (6)
I like this! It's nice and easy to use and no one knows I use it
I use it in the shower everyday and after 3 months Ive grown around 2.5 inches in length. Its proven to work and I am evidence of that. Easy to use! I will definitely recommend it to anyone!
3 inches in 3 months! Got to be the best thing that has ever happened to penises! All guys, get hold of this
Bigger willy! More confidence in the bedroom and its all thanks to sexualperformancetotal!
I wasn't very big before and it always played with my confidence in the bedroom. Thanks to this device im quite a lot bigger and I have lots more confidence in the bedroom. For the first time in like ever, I'm able to impress my girlfriend!
I was surprised with the comfort that this device promised. I wanted to check if it would really work. The device does help enhance size. But results take time.