Bathmate™ Hercules Penis Pump
How does the Bathmate pump work?
Although there are other penis pumps available, none work like the Bathmate Hercules and none have the power and success rate of it either. Using unique hydro pump technology, it harnesses the power of air and water to help enhance the size, strength and stamina.
The Bathmate Hercules Penis Pump creates a vacuum around the penis when worn. This vacuum draws more blood towards and into the penis. The more blood drawn into the penis, the better your performance quality will be. This influx of extra blood also helps to create new and healthy cells in the penis. The new blood cells help you to enhance the size and endurance
How and when do I wear it?
Wear for 15 minutes a day for optimal results. To begin with, fill the cylinder with water and place your penis into it. Push the cylinder to the base of your penis and begin to pump. Water will now begin to exit the cylinder and your penis will be further drawn into the cylinder. Pump until you are happy and comfortable with the level of the vacuum. Leave on for 15 minutes and then release the vacuum using the valve at the top on the pump. It's as easy as that.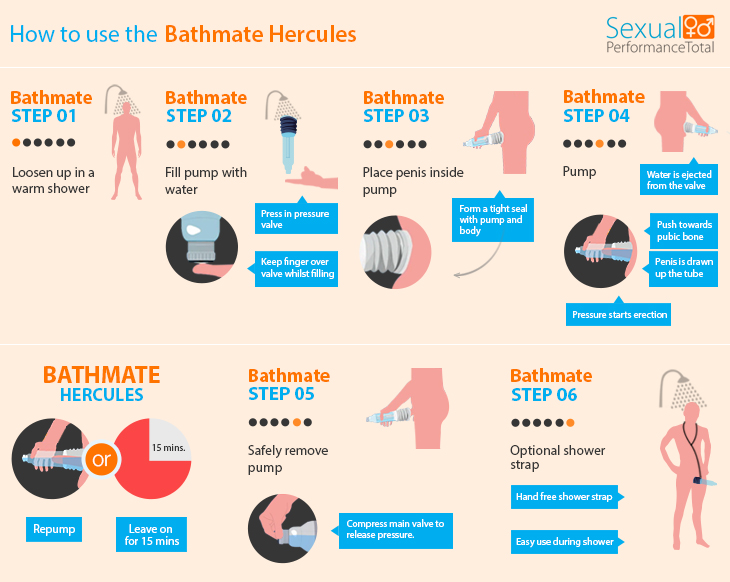 Faster results
Most users of the Bathmate pump are able to experience an increase in strength, stamina and performance. .
Is the Bathmate Hercules safe to use?
The Bathmate penis enlargement pump is made using high quality materials and it put together with safety and comfort in mind. If used as directed you shouldn't experience and pain or discomfort. If you do experience any discomfort, stop use and start again as directed. Do not apply too much pressure in your initial sessions. Increase the vacuum pressure with sessions. Do not exceed 15 minutes per day as this will not speed up results.
Ordering your Bathmate Penis Pump
Remember that when you place your order by 4pm on any working day, you can take advantage of our next day UK delivery. Join the thousands of men who have already benefited from the Bathmate pump system but simply choosing the 'Add to Basket' option now.
Reviews (4)
It's starting to get bigger but I haven't seen yet whether it is permanent. But its been good so far!
Just like it says, easy to use and permanent results. My partner loves the results more than I do
Bathmate was my choice without any doubt for its hydraulic technology. As for sexual performance total, the delivery was discreet. I would surely love to buy more of the stuff.
I needed longer lasting erections as sex was synonymous to boredom for me. It was too quick for my satisfaction. I didn't want to take any medication and was ok with using an external application which promised similar results. This was just perfect for me as it even fit my budget.